A Walk in the Abel Tasman National Park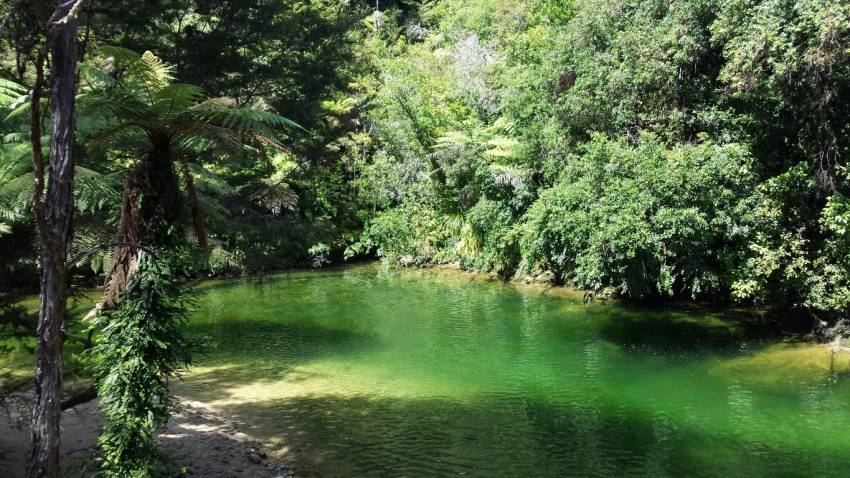 This has got to be one of New Zealand's top spots, yet it's remarkably uncrowded particularly outside of the busy Christmas/New Year holiday time. The Abel Tasman National Park is New Zealand's smallest national park, but it's big on stunning scenery which includes golden sand beaches and coves, tranquil lagoons, pristine islands.
One of the best ways to experience the Park is to take a boat or water taxi from Kaiteriteri to a secluded beach, walk for, say, 4 hours along the Abel Tasman Track, then catch a boat back to Kaiteriteri. A particularly popular rendition of this is with Wilsons Abel Tasman who offer their "Swing Bridge Bush and Beach" cruise and walk combo. The cruise leaves Kaiteriteri at 10.30am for Bark Bay, via Split Apple Rock for a photo op. Disembark at Medlands Beach and from there it's a 4 hour walk via Torrent Bay to Anchorage. Distance wise it's 9.5km or 6 miles along a well graded track, a few ups and downs but generally comfortable walking.
This part of the track takes you over the Falls River swing bridge and around the beautiful Torrent Bay inlet where postcard perfect photos are assured! There is a short side track to Cleopatra's Pool which is just 10 minutes each way off the main track and definitely worth the extra footsteps. We included Cleopatra's Pool and still arrived at Anchorage 45 minutes before the pick up time of 5.20pm which gave us a chance to soak in the gorgeous scenery at Anchorage. The Wilson's boat got us back to Kaiteriteri at 6.00pm – just in time for a well deserved cold beverage!
Take a small day pack, water, sunblock, sun hat, packed lunch, insect repellent (just in case), rainproof jacket (just in case)…
Ideally to do this trip you need to stay 2 nights at either Motueka or Kaiteriteri. Make the time, particularly in autumn/winter/spring when the weather is a little cooler and conducive to hiking. It's an exquisite coastline and worth every step!